Our 5-Step Process is Designed to Measurably Improve Communication to Your Target Market.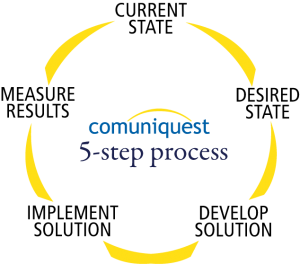 The first step is understanding your existing communications with your customers. By evaluating your current challenges and successes, we can identify opportunities for growth and improvement.
Our process starts with one important question: What are you dealing with to improve your communications? Defining milestones with the end in mind, we establish a vision. Together.
Through careful analysis, out-of-the-box brainstorming, ideating, superior design, and attention to ROI, we present to you powerful solutions, focused on details and established objectives.
From years of experience we're experts in executing solutions—on time and within budget. We are skilled in the art of managing details while maintaining the big picture, checking off objectives with each successful stride.
Even after implementation, our job isn't done. Collaboratively, we review results and search for additional profitable channels of growth to increase sales, reduce costs and build your image.
Want to Take a Test Run?
We offer a complimentary report card to determine key issues your organization is facing. Contact us today to find out how Comuniquest can benefit you!